26 years contribution to the New Zealand printing industry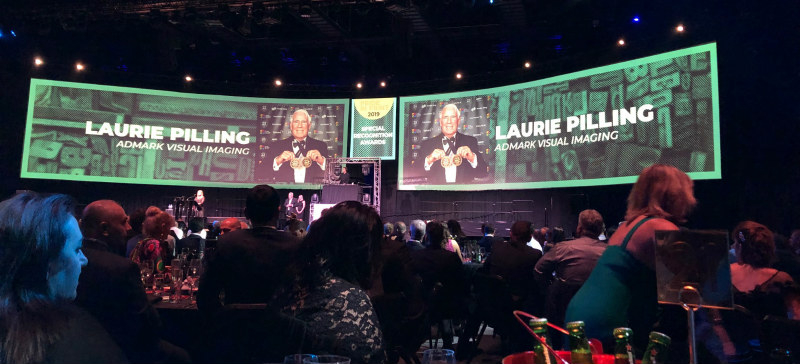 As a team, Admark was extremely proud of the recognition our recently retired Managing Director, Laurie Pilling received at the Pride in Print Awards on Friday night.
In a very moving tribute, Laurie's 26 year contribution to the printing industry in New Zealand was acknowledged, and there were many tears shed - particularly during his speech.
These are the words spoken by the Awards Manager, Sue Archibald before she presented a very surprised and humbled Laurie, with his special recognition certificate:
It is a pleasure to take this opportunity to recognise the contribution to the Awards programme made by Laurie Pilling of Admark Visual Imaging, Hamilton.
Admark have been entrants into the Pride In Print Awards since the inception of the Awards in 1993 – at this time, of the 16 Golds presented, one went to Admark for the Fortune Corporation Roulette Machine Label in the Self Adhesive Label category. Of the 16 medal winners in 1993 only 5 companies remain today – Admark being one of these.
In all the years that followed, Laurie has been instrumental in ensuring Admark have been supporters of the Awards programme, entering and attending events locally and nationally.
Laurie has been a strong advocate for the vehicle that is Pride In Print Awards standing alongside the programme and doing all he can to assist and promote print in New Zealand.
Laurie's company this year has been inducted into the 50 Medal Winners Club, and furthermore the Pride In Print Awards acknowledge tonight at our most recognised industry event, Laurie's contribution, support and drive to assist, promote and be an important part of the Pride In Print Awards.
Over the last 26 years there have been back lit burger signs, plane wraps, vehicle wraps, labels, point of sale and billboard signage entries – across many processes – self adhesive, reel fed, screen, digital and sheetfed to name a few.
Tonight marks Laurie's last at the helm as he will retire in the next few months … he leaves a strong legacy for the team to continue to grow – 50 Golds and 40 highly commended awards under his watch, together with process and category wins since this was commenced in 2010.
Congratulations to Laurie, and our heartfelt thanks to the team at Pride in Print.
Back to News