Admark Wins Two International Awards
PRESS RELEASE
AVAILABLE FOR IMMEDIATE RELEASE
12th March 2014
Hamilton company Admark Visual Imaging was delighted to hear that they had received a win and an Honourable Mention at the World Label Awards (WLA), recently held in Brussels.
The WLA is a world-wide competition in which entrants are comprised from USA, Japan, Europe, Australia, New Zealand, China and India. In order to compete, entrants need to have won a prize in their national label awards (Pride in Print Awards for NZ), and then be put forward by the local industry body (Self Adhesive Label Manufacturers Association of NZ).
Admark was awarded with a win in the Flexo Colour Process category for the Spiderman inmould label for Sistema. Admark were also awarded an honourable mention in the Combination Colour Process category for Air NZ's 'The Hobbit' themed 777-300 aircraft. This entry was comprised of 350 panels, with each panel sized at1200mm x 2100mm – the largest sticky label in the world.
Judging panel chairman, Tony White, said "This competition serves to show the world the best labels from international associations worldwide. The quality of the submitted labels each year continues to amaze the judges with this year being no exception. The level of technical skill shown by the entrants is exceptional."
End.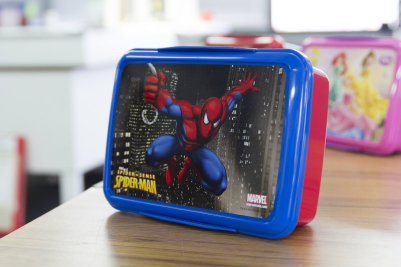 Click here to read the article in the Waikato TIme on Thursday 13th March 2014.
For further information or photographs please contact
Elysia Mills
Marketing Manager
Admark Visual Imaging
07 8460646
Back to News