Admark's International Success... Again!
The awards keep rolling in for Hamilton-based printing company, Admark Visual Imaging, winning overnight four international awards.
The Specialist Graphic Imaging Association (SGIA) Golden Image Awards were held this week in Las Vegas, Nevada. Admark was awarded a Gold Award for Air New Zealand's 'The Hobbit – Desolation of Smaug' themed plane. The amazing graphic of Smaug is 54 metres long and is applied to both sides of the plane. The 372 panel graphic is the largest to be applied to any aircraft in the world.
Burger King's backlit displays grabbed Admark's other three awards. A Silver Award was granted for the Burger King 'The Feast' backlit; a Bronze Award for the Burger King 'Brewers Chicken backlit; and an Honourable Mention for the Burger King 'Kings Collection' backlit. Admark use these awards as a benchmark against others in the world, and to win numerous awards is a real pat-on-the-back that we are doing things right.
The Golden Image Awards are organised by SGIA International and attract entries from all corners of the world. They are recognised as the world stage for excellence in screen and large format digital printing. Several judges said this year's awards were one of the toughest competitions they've judged, and any award given out is an extraordinary accomplishment. Only one gold medal is awarded in each category each year.
Admark's Managing Director, Laurie Pilling say the awards are due to the talent in his incredible team. "The commitment and expertise within our team makes me proud. When we win awards on the world stage, it demonstrates that Admark is among an elite group of top printers in the world in terms of printing excellence. These awards bring our tally of international awards to 32 and it is an achievement that we are all incredibly proud of."
Pilling says the company works with top New Zealand and international brands including Air New Zealand, Fonterra, and BP Oil. Its innovative design, printing and production methods mean Admark can print on almost anything, and can print everything from wine labels to large-scale graphics for milk tankers and aircraft.
Admark Visual Imaging Ltd has its head office at 279 Kahikatea Drive, Hamilton. It also has offices in Sydney, Rotorua, Auckland and Wellington.
For more information on Admark print solutions and projects see www.admarkprint.co.nz or contact managing director Laurie Pilling on 027 244 3384 or [email protected]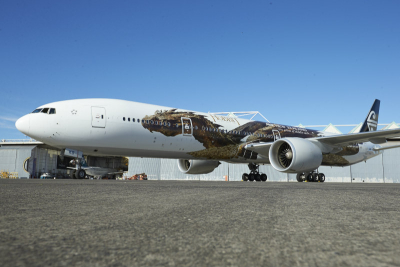 Back to News