Pride In Print awards 2020
Admark wins Sign and Display Category at the 2020 Pride in Print Awards
The Admark team is celebrating their success at 2020 Pride in Print Awards which was live streamed this year.
Not only did Admark win two gold medals and one highly commended award in Sign & Display Print Category, further, we took out the coveted Sign & Display overall Category Award, which represents the "best of the best" in the Sign & Display Print category.
The two gold medals were awarded as follows: Hamilton Beer & Wine Co. Van Wrap, Tatua Dairy Full Wrap Silo Tank and a highly commended for Hamilton Beer & Wine Co.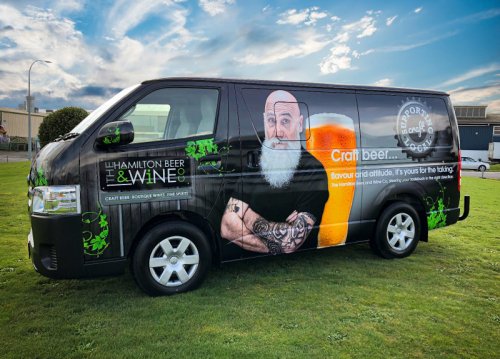 The judges said, "Eye popping colour this is an exceptional example of wide format print and vehicle wrapping – the printer has got everything right".
The Hamilton Beer & Wine Co Van Wrap was designed in house by Admark's very talented Designer Harley Wiseman.
Wiseman states: "Well, that came as a surprise! Winning awards is certainly a nice feeling but it isn't why I do what I do. My passion is creating solid eye-catching brands and bespoke graphics for our clients. It is awesome to see the project evolve from the very first conversation right through to the end result. The best part is seeing the client's reaction when they see the final design!
This particular project for The Hamilton Beer & Wind Co was one of the most exciting projects I have been involved in. I thoroughly enjoyed having an open brief, the best type of brief a designer could ever ask for!
I was really happy with the end result and so were they. Getting to know your clients and there business really does help to deliver something I know they will love and be proud of. That's why I do what I do.
Back to News